The iconic British actress Audrey Hepburn once said, 'Life is a party, Dress like it.' After almost two years of the monotonous work-from-home routine in hideous tracksuits, we probably know what Audrey meant by that statement. So, now we are ready to party whenever we get a chance, and that's why finding out the best party wear dresses for women has become so necessary. 
If you are a fashion brand that is creates party dresses for women, you need to make sure that the imagery on your website and other marketing materials come out right. One way that you can make sure that the imagery is attractive is to use a credible and feature-rich photo editor. This will allow you to add a ton of pleasing shades, brightness along with making the images as color-rich as possible. E-commerce fashion websites need to work with the best photo editors that are available in the market.
We have included some sparkling outfits for big, fancy crowds on this list, and we have also added some wearable outfits for evening drinks. We have also included some suggestions on how to accessorize those dresses so that you can look your best. So, without further ado, let's dive into our list of the best party wear dresses for women.
What Are The Best Party Wear Dresses For Women?
Choosing women's party wear is probably the most formidable job one has to do before going to a party. We seek out galore suggestions and plenty of outfit changes before we find the perfect dress. So, why not save some time and effort on outfit hunting, and check the best party wear dresses of 2021. Let's have a look;
1: One-Shoulder Bodycon Partywear
If you have a rectangle body shape, the one-shoulder bodycon partywear will look fabulous on you. It will create the illusion of a curvier and defined waste, which will add a new edge to your posture. If your shoulders and upper back are broader, then this dress will be an apple to your eye. From high-end discs to office parties, you can wear this party wear dress anywhere. 
However, to complete the look, you can tie a bun on your hair or straighten it out. Wearing a stud earring or dangling earring will look good with this kind of party dress. You can accentuate your look even more if you carry a nice clutch or sling bag with the dress.
2: Sleeveless Peplum Party Wear Dress
It is one of the most stylish party wear dresses for women out there, and anyone can afford it because it is pocket-friendly. However, a peplum dress will look the best if you have an hourglass figure. But, since it accentuates your waistline, even if you don't have an hourglass figure, you can still rock this outfit.
From formal parties to small gatherings, a peplum dress looks good anywhere. On top of that, if you pair it with black stilettoes or wedges, that will add more spark to your look. In addition, most peplum dresses are made with polyester fabric, so they can make your body look petite. Thus, your entire posture will look even more stunning if you choose this dress for party wear.
3: High-Low Ruffle Dresses
A high-low dress with a ruffle detailing along the hemline looks edgy and stylish for apparent reasons. However, the monochromatic look of such dresses can make you stand out in the crowd. Anybody who has a petite or hourglass body type can carry this dress well. It is one of those party wear dresses for women that also looks good on casual occasions.
You can pair the high-low ruffle dress with a silver stiletto, or a black ankle boot will also look good with it. If it's not such a high-end party, you can even pair the dress with sneakers, and you will still look like eye candy. 
4: Sequin Cocktail Dresses
For a cocktail look, a dress with sequin details and beads looks incredible. If your party is around morning or afternoon, then you can choose a long-length sequin dress. However, if the party is in the evening, a knee-length sequin dress will look the best. The best part of this party wear for women is that it looks good on any body type.
If your sequin dress has a plunging neckline, you can add a trending choker necklace with it. But, if it's a halter neck or has a regular neckline, we suggest you avoid any type of neckpiece. Instead, pairing the sequin dress with a beaded clutch and peep toes or gladiator sandals will surely shine the limelight on you.
5: Backless Dress
The list of party wear dresses for women will remain incomplete if we don't include this super sexy outfit. The small neckline with a backless detail is something that every girl wants to wear once in their lifetime. It will give you an ultra-chic flattering vibe when you enter the party wearing a dress like this.
But, you must remember to keep the makeup very low-key when you choose this dress for party wear. Just tie your hair at the back, and make sure it stays on point. We don't want any casual locks dangling from the side of your ears. A gladiator sandal or stiletto along with a hobo bag will be the best accessories for this dress.
6: Bandeau Dress
The best part of a bandeau dress is wearing it as a dress or with something like a high-waisted bottom. If you are uncomfortable with showing skin, you can also pair it with a sleek-shoulder blazer. The fabric of bandeau dresses is mostly satin, so you will be comfortable if you wear it at a winter party.
Over-the-knee boots or pointed-toe heels-both will look good with bandeau dresses. However, since the dress is monochromatic, you have to contour your cheeks really well to highlight your look. Several fancy necklace sets look good with such kind of a dress, so make sure to check them out.
7: Pencil Dresses
If we don't talk about pencil dresses while discussing the best party wear dresses for women, that will be unfair. As the name suggests, this dress is like a pencil and therefore remains very tight on your body. The sleeve pattern will vary from one to another, but the overall appearance of this dress is tender and graceful.
You can wear a pencil dress of any length, and you will look good in all of them. If you keep your hair open on the back and pair the dress with a dangling earring, your look will be complete.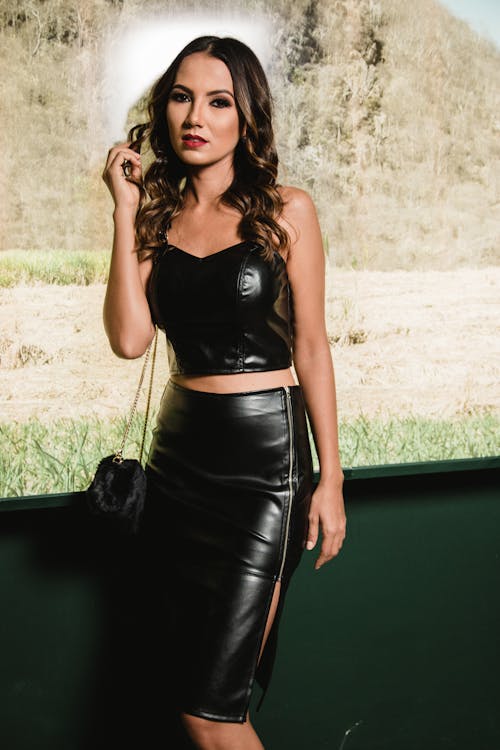 8: Crochet Party Dress
It is comparatively a new addition to the list of best party wear dresses for women, but it is not lagging behind. The lace fabric and floral crochet work all over the dress make it a perfect outfit for evening cocktails. In addition, the whole outfit will look extraordinary if you choose a dress of extended length. 
If you have curly hair, then a crochet pixie cut will look good with this dress. However, if you have straight hair, we suggest you complete the look with a tight bun. Pointed-toe pumps or minimalistic sandals will also look good with this dress. But, if you wear it with a stylish flat, you will look like a ballerina. 
9: High Slit Dresses
These party wear dresses for women are not new, but they have never gone out of style. So, women of any age and any body type can wear it proudly because they will look classy in it. If you are short and confused about what dress to wear at a party, you can choose slit dresses. It will make you look taller and leaner.
Pumped heels and gladiator sandals will be the best footwear to style your high-slit dress. However, if you want to add an elegant touch to it, a pearl choker necklace can fulfill your wish. If you're going to differentiate your slit dress from others at a party, you can also tie a belt around your waist.
10: Beaded Evening Gown
Last but not least, we have the beaded evening gown to help you design your next party look. However, if you want to wear this dress, make sure the party is formal and high-end. The luxurious features of this dress will be highlighted if you do a ramp walk. The beaded flares are showcased from the waistline, and it will make you look like a queen.
Vintage blonde curls, long wispy front, or chignon with tiffany bangs could be the probable hairstyles to go with this dress. It's better to wear high heels with this dress if you don't want the train to hit the dirt. You can complete the look with a crystal box clutch and with a perfect-sized diamond stud earring.
Conclusion
We have shared some of the best party wear dresses for women in this article. If you like any of these options, you can buy them right now, and tell us how you look. You can also follow our ideas of accessorizing your dress to complete the look. Finally, if you want to know more about these chic dresses, you can ask us in the comment section. 
Additional Reading: