Many trends will come and go, but buying stone jewelry was never out of the market and will never be. It does not matter if you are getting ready for a wedding or a house party, putting on the right accessories is always an excellent way to elevate your outfit. That's why choosing the right stone jewellery sets is essential if you want to make a solid purchase. 
In this article, we will share some beautiful stone jewelry sets with you to make you awestruck. We are sure you will not regret purchasing any of these jewelry sets because they are all value for money. The jewelry sets we will be sharing with you here will be perfect for your wedding day and other occasions.
What Are The Best Stone Jewelry Sets You Should Know About?
Stone jewelry sets are as important as your gorgeous outfits because one complements the other. Without a lovely jewelry set, your outfit will look dull, and without a magnificent outfit, your jewelry set may not get highlighted. So, let's look at a few stone jewelry sets that you should know about before purchasing.
1: A Multicolored Stone Necklace
The best thing about a multicolored stone necklace is that it looks good on people of any skin color. You can wear it comfortably with a lehenga but choose a jewelry set that will be heavy as the lehenga. Else, it won't highlight your entire look. For example, you can wear multicolor stoned studs on your earlobe to not go over the top. 
Multicolored stoned jewelry sets look good with party dresses also. So just imagine, you are wearing a little black dress and pairing it with a sleek chain with colorful stones; we bet the entire crowd will be looking at you only. 
2: A Gold Choker Set With Semi-Precious Stones
Do you remember the jewelry set in stone that Sonam Kapoor wore on her wedding day? I mean, we know she looked gorgeous, but if you focus on her choker set, you may know the main reason why she looked so good. If you pair it with the right lehenga or saree, a gold choker set with semi-precious stones will look as beautiful as you want it to be. 
Make sure the gold choker is 22 karats to look good when it is embellished with semi-precious stones. But you can't pair it with a western outfit. If you wear this stone jewellery set with peach, bronze, red, or white color lehenga, or saree, you will look the best. 
3: A Layered Neckpiece With Kundan Stones
A Kundan stone jewelry set contains 24 karat gold, so you may think it will be more expensive than usual gold jewelry. But, that's not always the case. The actual content of gold in Kundan necklaces is very low, and you may have already noticed how these necklaces highlight the stones more than the gold.
A layered neckpiece with Kundan stone will be the perfect look for a bride. The Mughal craftsmanship with meticulously aligned gold makes this stone jewelry set an ideal look for traditional Indian weddings. It will make you look like a royal bride for your big day, so try to buy one now.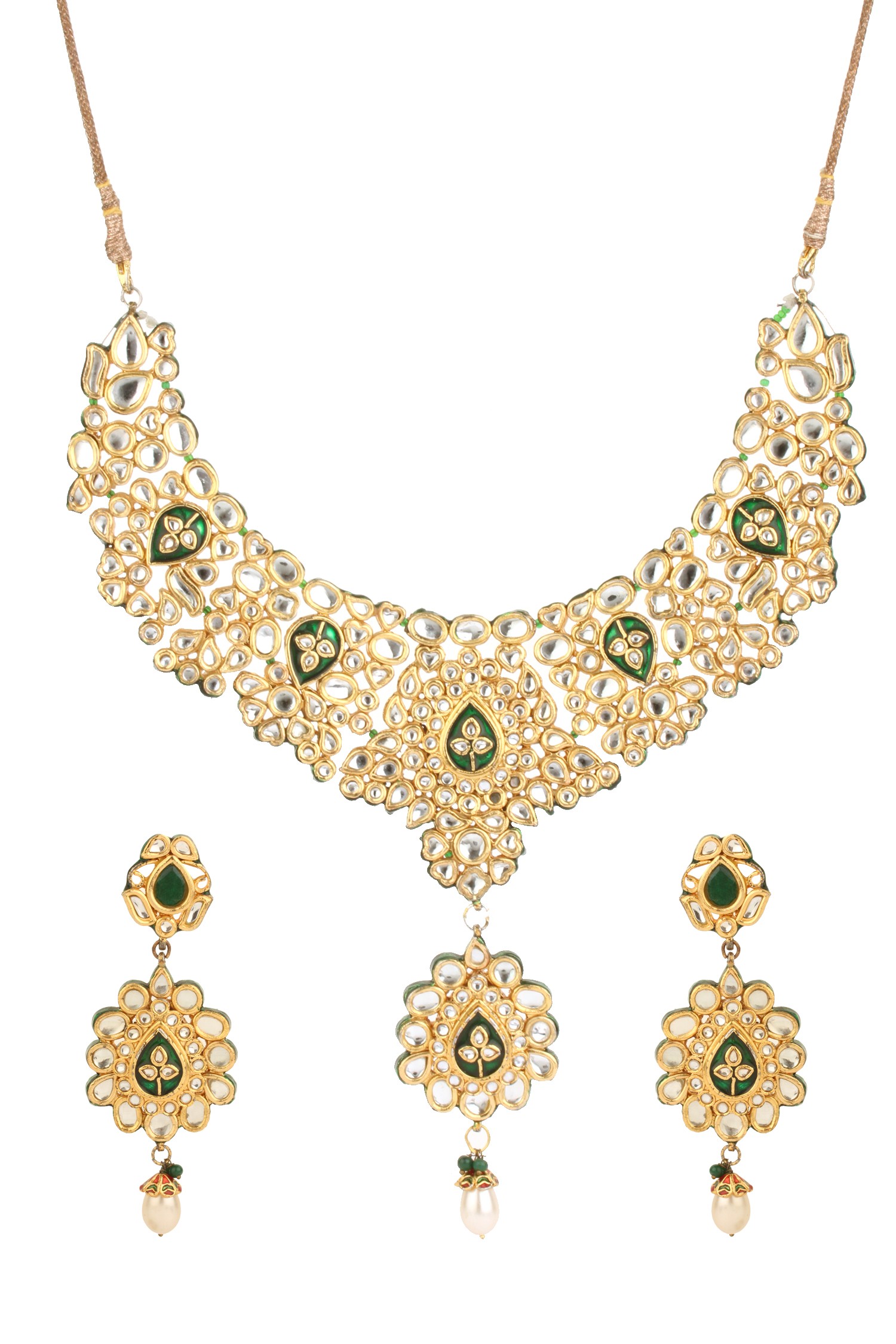 4: Heavy Diamond Necklace With Emerald Stones
Yes, we know what you are thinking about. The price, right? A heavy diamond necklace with green stone will be expensive so we won't waste time on it. But, if you are willing to go a little overboard in your budget, this stone jewelry set will be the perfect collection for any high-end party.
You can pair it with a white or black long gown, and the entire crowd will be looking only at you. It will look equally good with a white saree, but make sure the occasion is quite significant for you to pull off jewelry like this. You should also look at the color, clarity, cut, and carat of the diamond to make sure you bought the right thing.
5: Diamond And Sapphire Stone Necklace
A layered necklace with Diamond and sapphire stones is quite trending among the Eastern and Western brides nowadays. We have seen many brides pulling off this stunning jewelry set on occasions, and indeed they looked good. However, we think it will be best to pair the necklace with dangle earrings to pop up the whole look.
As sapphires are blue, you can wear this necklace with sarees and lehengas of pink, white, and gold color. For western wear, you can pair the necklace with black or silver long dresses. But, for long skirts, don't pair them with a dangle earring. Instead, you can wear diamond stud earrings if you want or keep your ears naked.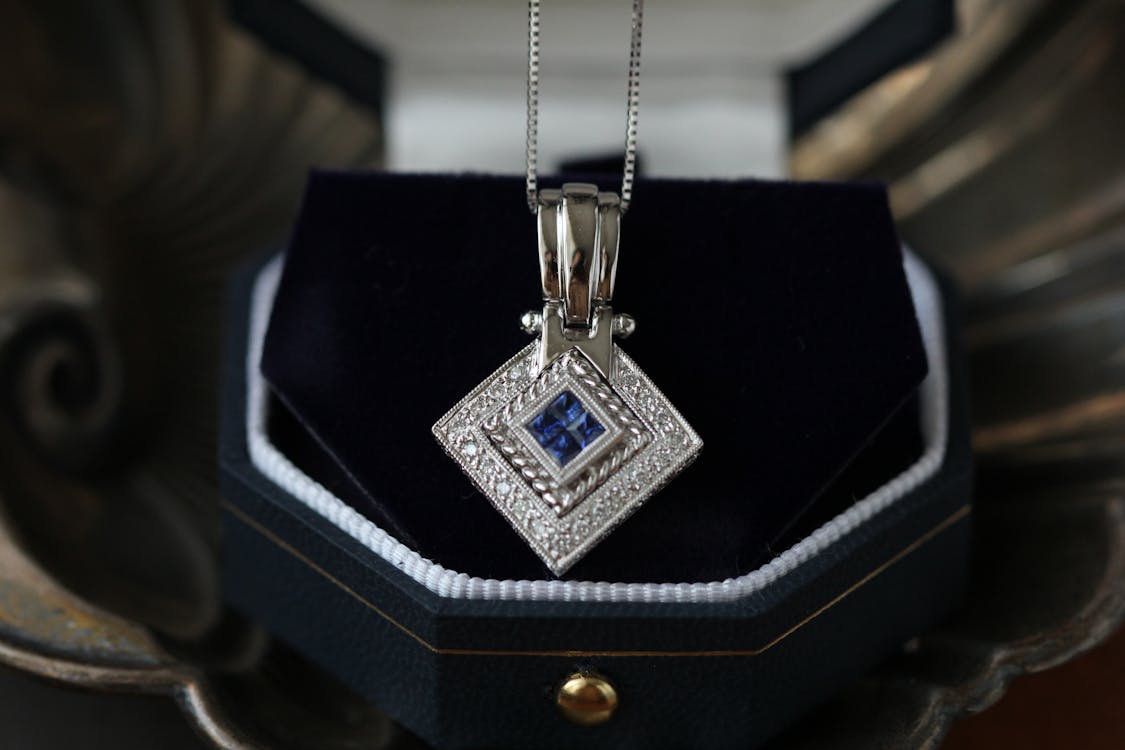 6: Jadau Necklace With Colorful Stones
Jadau necklace sets come in various color options, and they also come with multicolor stones. A gorgeous Jadau necklace set is a must-have in your wardrobe looking for stone jewelry sets. But, this set will not look good with western outfits, so it's better if you wear these with sarees or lehengas.
You can rock this stone jewelry set the best if you wear a red lehenga, white, or a beige saree. We have seen many brides and bridesmaids wearing this set and looking drop-dead gorgeous. A chandelier earring or a hoop earring will look the best with this neckpiece.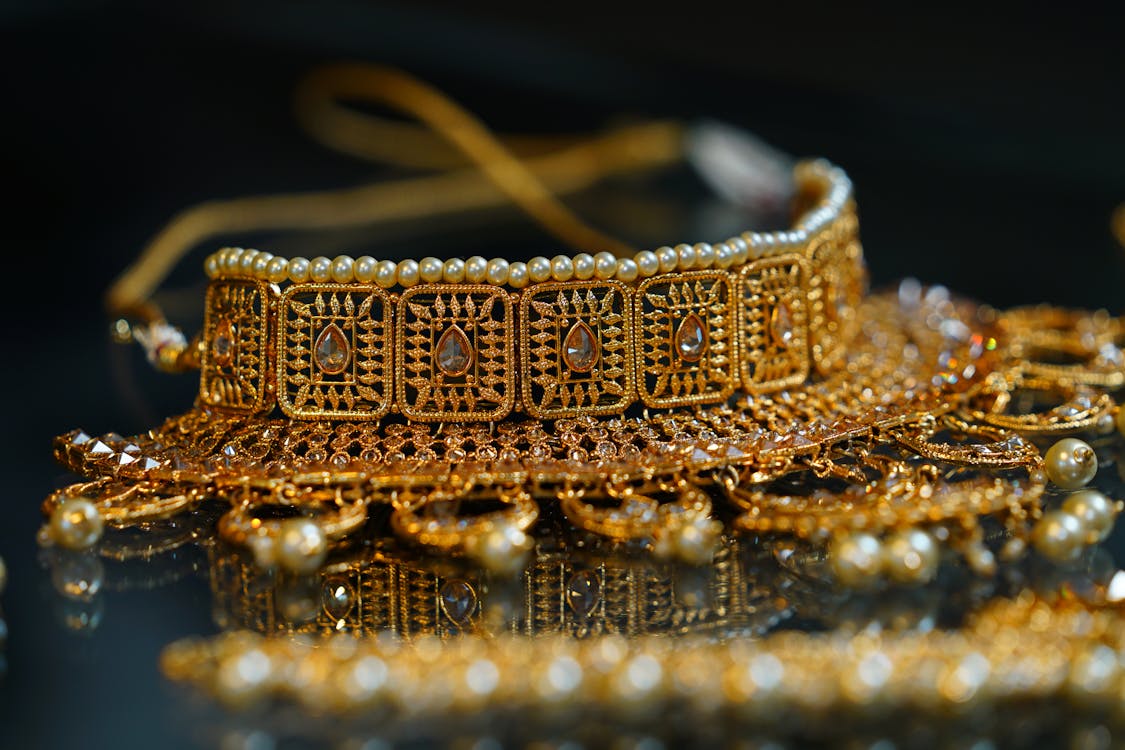 7: Polki Choker Set With Garnet Stones
A Polki choker with garnet is one such stone jewelry set that women of any age can rock. Even if you don't pair it with earrings, it will still add a spark to your dress. Just lay your hair back and let the necklace shine on its own. Make sure you let the Polki choker speak for itself when you wear it.
Like many other stone jewelry sets on our list, we think this set will look good with Indian and Western dresses. However, you don't have to wait for a high-end party to wear this. If the design is simple, you can wear it for casual night-outs as well.
8: Black Onyx Stone Layered Necklace
As you may have guessed, this unconventional jewelry set will look the best with chic party wear dresses. If you wear it with a rose pink pencil dress or a peach-colored peplum dress, you will look no less than an angel. But, if you wear it with sarees of red or maroon color, you will look empowered. 
So, as you can guess, this stone jewelry set will look good with many outfits, but the color of the outfit will matter significantly here. Also, you will have matching hoop earrings with this set, but the dangling earrings may look good too if you tie up your hair in a neat bun. Pair them with a classic kitten heel and you are all set.
9: Floral Pearl Set With Rose Quartz Stones
A pearl set with rose quartz stones will also be quite expensive, but it will value money. This stone jewelry set will pair the best with teardrop earrings, or if you want, you can wear dangle earrings with it. However, we think black and pink will be the most suitable color options for outfits to match this set.
A stone jewelry state that looks this stunning is undoubtedly worth the price, isn't it? But, again, it will cost you much lesser than a Kundan set. So, just think of your wedding day and buy this nice stone jewelry set to stand out in the crowd. 
10: A String Of Gemstones
Last but not least, we have a string of gemstones on our list that is also a must-have if you are a fan of stone jewelry sets. This jewelry set will look the best with any colored dress because the neckpiece itself will come in varied color options. So, choose the one that makes your skin tone pop out the most.
Wearing a string of gemstones will look the best if paired with western outfits. But, it will look good too if you wear it with Indian outfits. Unlike many other sets on this list, you can wear this one on any occasion you one. You won't look over the top.
FAQs
As we have given you some awesome stone jewelry set ideas, we feel there are some questions you may be stuck with. Let's take a look at a few of those questions now;
1: What To Look Out For When Buying Gemstones?
Ans: You must know the name of the gemstones because only then can you get an idea of their price. You should check the quality of the cut, confirm its color, and compare the color difference of one gemstone with others in different stores. Make sure you get to know the return policy of the store as well before buying a gem.
2: What Do I Need To Know Before Buying Jewelry?
Ans: If you want to buy stone jewelry sets, you must learn how to use the jeweler's lope. It is a small magnifying glass that lets you see the inside of the stone to see if it is damaged or chipped in any way. You can further ask the salesman to educate you about the stone quality before making your purchase.
3: What Is The Best Day To Buy Jewelry?
Ans: The price of every piece of jewelry stays on top on Monday, and as the week proceeds, the price starts to drop. But, for earrings only, costs remain a bit higher on Wednesdays and Thursdays. So, it's better to buy whole jewelry sets on the weekends. 
Signing Off
We have elaborated on some stone jewelry sets on this list that will be in your budget and will look good with various dress options. If you have liked our list, let us know in the comment box. Also, if you have more questions about this list, you can share that in the comment section. We will surely get back to you.